[secureyoutube id='553′]
Udja
This announcement is for a new course that is being added to the Kemet University Egyptian Mysteries program. This is also part of the Certificates and Degrees program
The African Origins of Civilization course is based on the course taught by Sebai MAA at the Florida International University. This course will last for 12 weeks and will be offered once per year. It is based on the book THE AFRICAN ORIGINS OF CIVILIZATION, MYSTICAL RELIGION AND YOGA PHILOSOPHY.
Those who attended the course the first time when it was offered know the value of understanding the history and origins of Kamitan culture, religion, philosophy and ethical wisdom for understanding life a spiritual aspirant, making sense of the world we live in and gaining insights into the nature of Neterian spirituality.
All study materials and text are included.
The Student will view lectures and listen to audio lectures and then also read the text. Then they will be given questions and the answers are to be posted in the discussion area of the Kemet University web site prepared exclusively for this course.
Then the student will receive active feedback and mentoring on what they have learned and that teaching may be augmented and expanded through interaction with the teacher.
Upon completion the student will receive a Certificate in Introduction to African, Kemetic and World History and Philosophy.
HTP
==================================================
Udja and Welcome to the African Origins Certificate Course
-Sebai MAA
In this course you will have an opportunity to interact directly with Sebai Dr. Muata Ashby and or Seba Dja Ashby on the meaning and depth of this seminal and important work which explores the culture, civilization and spiritual philosophy of Ancient Egypt and how it relates to the world history and spiritual systems of today so as to be a practitioner grounded in African wisdom, civilization, and spirituality.
ABOUT THE TEXT BOOK
This is actually a 3 VOLUME SET: Part 1, Part 2, Part 3 in one volume 683 Pages Hard Cover First Edition Three volumes in one.
VOLUME ONE: AFRICAN ORIGINS OF AFRICAN CIVILIZATION, RELIGION, PHILOSOPHY
VOLUME TWO: AFRICAN ORIGINS OF WESTERN CIVILIZATION, RELIGION, PHILOSOPHY
VOLUME THREE: AFRICAN ORIGINS OF EASTERN CIVILIZATION, RELIGION, PHILOSOPHY
Over the past several years I have been asked to put together in one volume the most important evidences showing the correlations and common teachings between Kamitan (Ancient Egyptian) culture and religion and that of India. The questions of the history of Ancient Egypt, and the latest archaeological evidences showing civilization and culture in Ancient Egypt and its spread to other countries, has intrigued many scholars as well as mystics over the years. Also, the possibility that Ancient Egyptian Priests and Priestesses migrated to Greece, India and other countries to carry on the traditions of the Ancient Egyptian Mysteries, has been speculated over the years as well. In chapter 1 of the book Egyptian Yoga The Philosophy of Enlightenment, 1995, I first introduced the deepest comparison between Ancient Egypt and India that had been brought forth up to that time. Now, in the year 2001 this new book, THE AFRICAN ORIGINS OF CIVILIZATION, MYSTICAL RELIGION AND YOGA PHILOSOPHY, more fully explores the motifs, symbols and philosophical correlations between Ancient Egyptian and Indian mysticism and clearly shows not only that Ancient Egypt and India were connected culturally but also spiritually. How does this knowledge help the spiritual aspirant? This discovery has great importance for the Yogis and mystics who follow the philosophy of Ancient Egypt and the mysticism of India. It means that India has a longer history and heritage than was previously understood. It shows that the mysteries of Ancient Egypt were essentially a yoga tradition which did not die but rather developed into the modern day systems of Yoga technology of India. It further shows that African culture developed Yoga Mysticism earlier than any other civilization in history. All of this expands our understanding of the unity of culture and the deep legacy of Yoga, which stretches into the distant past, beyond the Indus Valley civilization, the earliest known high culture in India as well as the Vedic tradition of Aryan culture. Therefore, Yoga culture and mysticism is the oldest known tradition of spiritual development and Indian mysticism is an extension of the Ancient Egyptian mysticism. By understanding the legacy which Ancient Egypt gave to India the mysticism of India is better understood and by comprehending the heritage of Indian Yoga, which is rooted in Ancient Egypt the Mysticism of Ancient Egypt is also better understood. This expanded understanding allows us to prove the underlying kinship of humanity, through the common symbols, motifs and philosophies which are not disparate and confusing teachings but in reality expressions of the same study of truth through metaphysics and mystical realization of Self.
COURSE SYLLABUS
Udja
This page contains information about certificate courses offered by the Kemet University.
Certificate course: African Origins of Civilization. Description: This course follows the class program given by Sebai Dr. Muata Ashby at Florida International University concentrating on the book AFRICAN ORIGINS OF CIVILIZATION. The student will gain an understanding of the origins, religion, philosophy and wisdom of Ancient Egyptian culture, spirituality and ethics and how that culture has affected European, Asian and African culture, world religion and philosophy so as to enhance the practice and experience of initiatic evolution as a human being and spiritual aspirant
AFRICAN ORIGINS OF CIVILIZATION AND ANCIENT EGYPTIAN HISTORY CLASSROOM LESSON PLAN & SYLLABUS
Udja and Welcome to the Egyptian Mysteries Level 1 Classroom
-Sebai MAA
INTRODUCTION TO AFRICAN ORIGINS AND ANCIENT EGYPTIAN HISTORY AND PHILOSOPHY STUDIES AND PRACTICE
Udja
In this program you will be led through a series of teachings and experiences that are designed to help you do the work necessary to lead yourself towards spiritual enlightenment. Specifically, in this level you are concerned with learning about and becoming seated in the fundamental purpose of the teaching of Shetaut Neter and what needs to be done by you to achieve becoming an authentic aspirant of the teachings. So now you are not practicing on your own but you have chosen to enter into an initiatic process with direct leadership on the path and you are to rely on that choice of yours and on that leadership that you have vetted so that you may allow your personality to understand the teaching and be successful on the path. The statement just given follows the Ancient Egyptian injunctions of the initiates: (4)"Have faith in your master's ability to lead you along the path of truth," (5)"Have faith in your own ability to accept the truth," (6)"Have faith in your ability to act with wisdom." That work will be accomplished through listening to audio recorded lectures, video recorded lectures and reading from books prepared by Sebai Maa (Dr. Muata Ashby). The Discussion section will serve as a means for you to express your understanding of the teaching and receive confirmation, or correction along with augmentation of the teaching contained in the recordings and readings. Additionally you will be able to communicate with other students and Sebai Maa and or Seba Dja through your process of study, reflection and meditation on the teachings of Shetaut Neter Ancient Egyptian Mysteries. The program of Shedy (spiritual practices to penetrate the mysteries of life) in pursuit of revealing the mysteries does not occur overnight or in a single initiation ritual but rather through a process of cleansing the personality and rendering it intellectually bright and pure in feeling. This process is not just one of reading books but requires a transformation of the entire personality including body, mind and soul; so it's not just about reading books or listening to lectures. You need to change your lifestyle to conform to the wisdom of the teaching and you must practice the prescribed disciplines of worship, chant and meditation along with the philosophy studies. In this line it would be very powerful for you to attend the annual conferences along with attending this program –even though this program attempts to provide quality good association and expert ritual and meditation practice instruction in the webinar meetings.
To augment and complement this classwork:
I also suggest that in addition to the class participation you will start, that you should also access the free materials on the main site which have music and video for your expanded practice. There you will also find free kemetic music playing and a wholistic Kemetic environment to bring in to your home life or wherever you may be. You will also find links to the new youtube video channel and to the weekly online programs.
Additionally you should practice the daily devotional worship and meditation when you receive the daily emails. This will all help to maintain your personal practice and sustain your inner feeling towards the path in order to complement the classroom work.
just go to www.egyptianyoga.com
HTP
Sebai MAA
HOW WILL THE COURSE WORK?

Audio Assignments
In this lesson you will find STANDING QUESTIONS to be answered about the lectures you will be given. The term standing questions means that those questions are to be applied to all the audio recordings that follow until other instructions are given. You are to post your answers in the discussion forum where you will be given feedback about your understanding and you may also receive additional teaching you are to reflect upon.
Video Assignment
If there is a video assignment in your lesson you are to follow the instructions given and then post your answers in the discussion section the same as for the audio assignment. NOTE-if you see a button for "PLAY LIST" in the video player, access that so you can look for the specific video for this assignment.
Reading Assignment
If there is a reading assignment in your lesson you are to follow the instructions given and then post your answers in the discussion section the same as for the audio assignment.
Procedure for posting your answers
Important: You will see a link to a discussion forum at the bottom of each lesson page:
You will post your answers, comments and questions in the appropriate topic forum and start the conversations there. When posting, include:
– the name of the lesson you are posting about (Lesson 1, Lesson 3. Etc.)
-the name of the audio and the approximate time index,
– the name of the video and the approximate time index
-the name of the book or article you are referring to and page number you are posting about.
. In this way it will be easier to keep track of what you are posting and we will also have a better idea of what you are posting or asking about. If this is not done you may be asked to go back and redo the post with the required information.
We will have an orientation to go over all of this at the commencement of the course

KEEPING A SPIRITUAL JOURNAL
You should also, in addition to this forum, set up a journal for yourself to keep a record of your postings and also you will use the journal to later for other kinds of assignments. You should be honest with yourself in your journal, keeping a record of successes and failures as well as insights and epiphanies as you progress in the teachings. This also serves to help you reason what you are learning and how you are transforming through it as a human being and as a spirit being. Generally, the journal is a private document between yourself, your spirit and your teacher though you may wish to share some of your thoughts with the general classroom.
In it you will have your personal reflections as well as a record of how well you are following the teaching, the spiritual checklists, the diet and your personal spiritual goals; your thoughts and feelings about the class, the teaching, your interactions with the teacher and your changing understandings about life, Creation and spiritual philosophy.
The spiritual journal should be updated at least once on a weekly basis.
HTP
==================================================================
==================================================================
Interaction Requirement
Udja
before moving on to the next lesson you are required to interact with at least one other student in your lesson about some area in the topic in the lesson. You may comment or ask a questions about something they said in their posting or you may ask a questions for example, about how they perceived the same topic or subject audio, video or readings or something said by the teacher in the forum, etc..
HTP
==================================================================
==================================================================
Lesson Checklist
Before moving on to the next lesson you are to check to make sure you have completed the assignments for each lesson and have received feedback from your postings so you can know you have done the work successfully and no other items are required. (Sometimes you may be asked to review or check on other items that may be provided, before you can move on)
————Complete any Audio Assignments
————Complete any Video Assignments
————Complete any Reading Assignments
————Complete your journal entries for this lesson period
————Complete your interaction requirement for this lesson
When these are completed and you have received and responded to feedback from your teacher if they have given you any followup work or reflections, then move to the next lesson.
HTP
==================================================================
FINAL PAPER-ASSIGNMENT
Note-1-
you do not need to limit yourself to 10 items if you think there are more but provide at least 10
Note-2-
These final papers will be kept as archive for this course for all to share in the interests and insights of others and for future students who will take the course as well.
==================================================================
LESSON PLAN
A 12 week course divided into 12 lessons each to be completed each week.
The lessons consists of readings from the textbook and viewing video from the class and then answering the questions assigned.
(other items
[audio, reading, etc.]
may be added to the program as optional special reference material and or extracurricular assignments-TBA)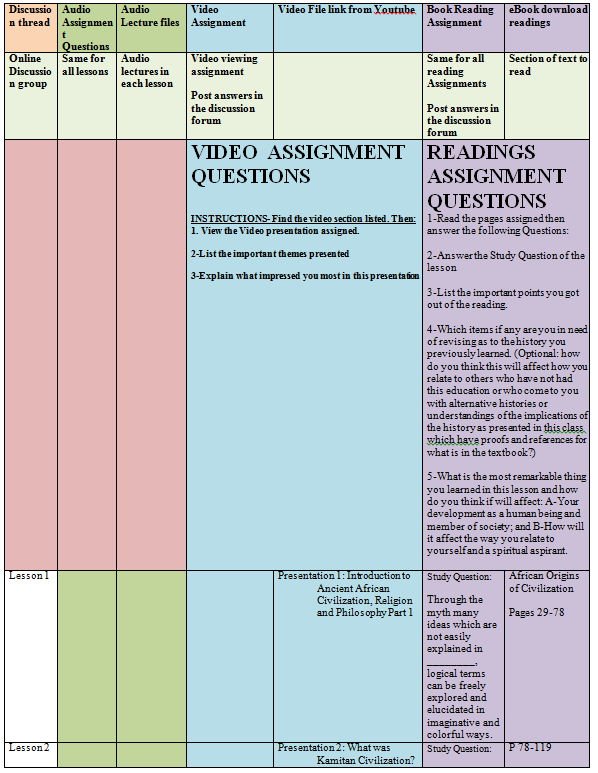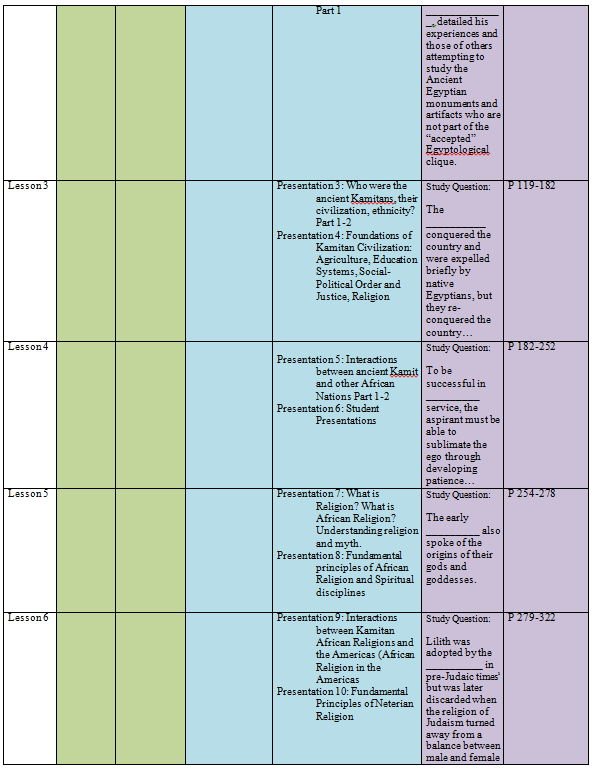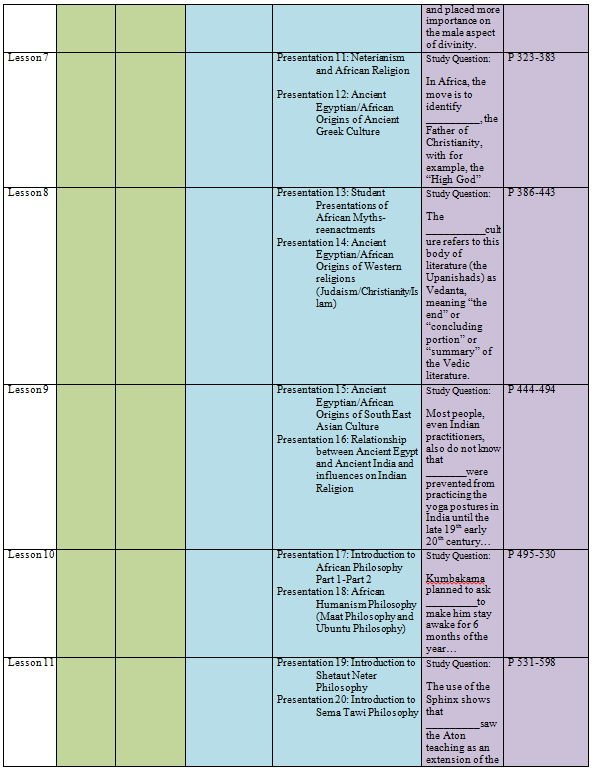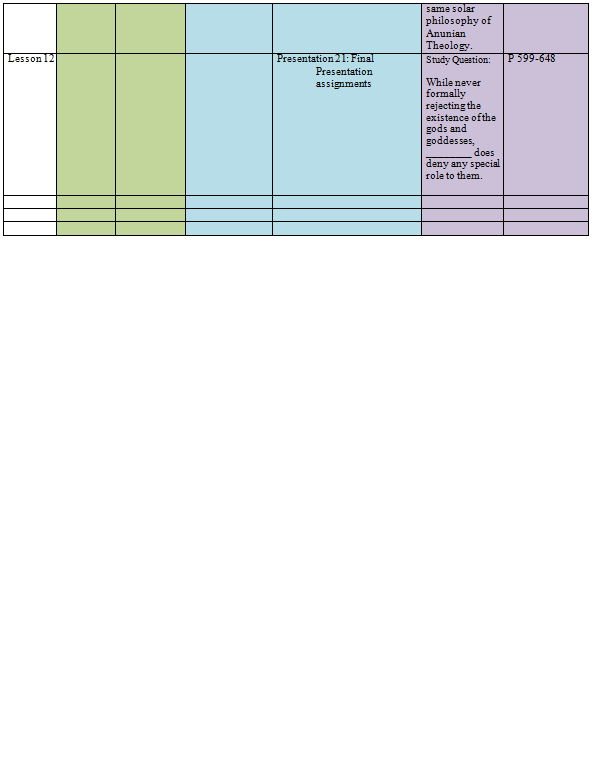 =============================================================
Q & A
Udja Sebai MAA
In this African Origins course will you be discussing how the spiritual philosophy of Kemet was transferred to Europe? and also what will be the grading system used?
peace
ANSWER
Udja-Greetings
Indeed the course covers that topic along with the transfer to the East as well as to other parts of Africa and even the Americas. But more than that it will discuss what the spiritual philosophy is and how that affected and continues to affect those traditions even today. But the real purpose is not just a historical study but indeed it is a all-encompassing study to build foundational knowledge of the teaching and how it relates to the history of humanity and the practical world so as to have a foundation to be a powerful human citizen and a powerful spiritual aspirant. This occurs when quandaries and diffidence about one's place in the human family are removed and when the erroneous histories and academic deceptions are exposed and discredited and when a person lives out of that truth instead of the lies.
The grading is not like the western schools; this is more of what we might call a combination of Kemetic didactic training involving study and discussion and practice of writing, -then receiving feedback (evaluation and coaching) that leads aspirants to reason and what the Ancient Egyptian wisdom teaching refers to as
saa or "feeling and understanding".
HTP
Q & A
Udja
A question came in about those who have taken the African Origins course when it was offered under the old AA correspondence program. This current new program takes the old and expands it. Also, this new program is not a correspondence program but rather an interactive online course. So you will be in contact on a weekly basis with the teacher and will communicate directly on all aspects of the teaching. So this will be a dynamic interchange dedicated to gaining an in depth and qualitative understanding of the history and the teaching that is available from the Kemetic wisdom. All the Kemet University courses augment the teaching of the books and the lectures since they introduce a third element to the teaching process, that is the mentoring and feedback on the teaching that is being received. So this course offers more than the old AA correspondence courses, they offer more than just reading the books, they offer more than just attending the lectures; in other words they seek to offer a more well rounded and complete learning experience and this is their great value.
So all are encouraged to attend the courses offered at this new and revised Kemet University program.
For those who started the course previously or who completed the African Origins course in the old correspondence AA degree who would like to take the course in this new program may do so by paying a nominal administration cost of $35.
HTP
Q & A
Udja
Is this the same material that was covered in the old AA degree program?
ANSWER
No, the old AA degree correspondence program only covered African Origins Part 1. African Origins has three parts. African Origins of African Civilization, African Origins of Western Civilization, and African Origins of Eastern Civilization. This new course as currently configured covers all 3 parts.
HTP